Adrenal Support - Cushing's Treatment for Dogs
Adrenal Support is an herbal formula that helps relieve the symptoms of Cushing's disease in dogs so that they may live a happy, comfortable life. Recommended by veterinarians worldwide. Call for a free consultation!
Adrenal Support combines a specific blend of herbs that help relieve the symptoms related to Cushing's Disease in dogs.  We believe in using the natural approach for the treatment of Cushing's Disease before traditional veterinary meds that are so often over prescribed to our dogs.   There are so many possible negative side effects caused by these drugs.    Try our natural approach first and if it does not improve the symptoms or clear up the symptoms, we are happy to issue a full refund.  
Helps balance the increased cortisol which contributes to Cushing's disease
alleviating the excessive thirst, increased urination, and excessive panting.
Helps with hair loss, fragile skin, and frequent skin infections
helps with enlarged abdomen, increased appetite, and sluggishnes
Vet Approved and Recommended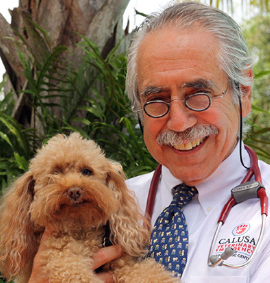 "Prana Pets has created a tincture that can help level both increased and decreased adrenal functions. Raised adrenal and lower adrenal function can be confusing for the pet owner, and concerning for pet and owner. I absolutely support this herbal remedy."
Andrew Turkell, DVM, CVA, CCRT, CHT-V
Prana Pets Adrenal Support is extremely effective in the treatment of Cushing's disease in dogs while also being healthy for a dog's body. It alleviates the symptoms of Cushing's disease by revitalizing adrenal function naturally. Prana Pets Adrenal Support contains powerful herbs that normalize hormones and help a dog's body adapt to stress. 
Prana Pets Adrenal Support treats Cushing's disease in dogs by supporting the balance among the dog's adrenal glands, pituitary gland, and hypothalamus. Since there is no cure for Cushing's, treatment has to be long-term, making this holistic method healthier and more beneficial than pharmaceutical drugs. Prana Pets Adrenal Support balances a dog's body rather than simply targeting symptoms; it has no side effects or risks to a dog's health.

Cushing's disease in dogs occurs when the dog's adrenal glands overproduce cortisol, a stress hormone. When a dog is under stress, its adrenal glands will emit cortisol as a normal response to danger. If stress becomes chronic, however, cortisol is released uncontrollably at the expense of the dog's health. Anxious dogs tend to have higher stress levels, putting them at risk for Cushing's disease as they grow older. Typical symptoms of Cushing's disease in dogs include increased appetite and urination, excessive panting and thirst, hair loss, skin issues, low energy, enlarged abdomen, and high blood sugar. Prana Pets Adrenal Support has nourishing herbs that diminish symptoms in just two to three weeks, acting as the perfect solution for long-term care of your dog with Cushing's disease.  Adrenal Support for Cushing's disease treatment is a 100% herbal remedy specifically formulated to provide comprehensive, natural support to dogs & cats suffering from symptoms of Cushing's disease. Hormonal balance is a delicate and complex issue that must be approached holistically for long-term success.   This truly natural approach restores balance in the entire HPA (pituitary, adrenal and hypothalamic) axis, not just hiding the symptoms. 
The treatment of Cushing's disease in dogs requires a remedy that improves the dog's vitality, strength, energy while supporting the following affected areas of its body:
Adrenal glands

Pituitary gland

Hypothalamus

Liver

Kidneys

Skin

Fur

Digestive tract

Immune system
Prana Pets has carefully formulated a variety of herbs into a single remedy that collectively ease the full spectrum of symptoms that dogs with Cushing's disease commonly experience. Prana Pets Adrenal Support contains the following:

Ingredients
Astragalus

a traditional Chinese medicinal herb that acts as an adaptogen, meaning that it helps a dog's body adapt to stress

balances and strengthens a dog's adrenal glands

relieves the symptoms of excessive thirst and urination while stimulating the immune system when used regularly 
Licorice 
an herb widely used in Traditional Chinese Medicine that balances a dog's adrenal function when used in conjunction with the other adaptogenic herbs in Prana Pets Adrenal Support

nourishes the liver and

the

immune system while also benefiting skin health
Dandelion 
an herb rich in vitamin C and vitamin B5, which are crucial for a dog's adrenal glands to restore

themselves

contains an array of minerals such as phosphorus, manganese, and iron that regulate healthy adrenal gland function

a highly nutritional food that promotes kidney, liver, and digestive tract health holistically

contains nutrients that encourage the growth of skin and fur
Horsetail 
helps a dog's body maintain a healthy digestive system

contains a wide variety of minerals such as

magnesium

and manganese for hormonal balance and health of the nervous system

contains silica and sulphur to aid in the formation of skin, fur, and connective tissues
Cleavers 
helps the dog's kidneys cleanse by expelling the extra water that causes an enlarged abdomen, one of the main symptoms of Cushing's disease in dogs 

supports the health of the dog's mucous membranes with its many vitamins, minerals, and nutrients

relieves the frequent skin infections brought on by Cushing's disease in dogs

benefits the dog's adrenal glands with its cleansing properties
Burdock 
nourishes the dog's liver as it is often overwhelmed by the effects of Cushing's disease

highly nutritious and purifies the blood

treats skin irritation and restores skin thickness and texture in dogs with Cushing's disease
Ginseng 
an adaptogenic traditional Chinese

medicinal herb that balances the dog's hypothalamic–pituitary–adrenal axis, which regulates the dog's

digestive

 and immune systems

, energy levels, sex hormones, moods, and emotions

takes care of the lethargy that develops in dogs with Cushing's as it restores their energy, muscular strength, and stamina when used consistently 

helps to maintain a healthy blood sugar level
Ashwagandha
an Ayurvedic herb that strengthens a dog's body while improving overall health

improves a dog's response to stress if used daily

enhances energy levels and immunity

protects the dog's liver and supports liver health and function 
Inactive ingredients: Purified Water, USP Vegetable Glycerin.

Directions:
Use 2-3 times daily. Drops may be administered directly into the mouth, or mixed with food.
Dogs under 20 lbs: 3-5 drops
Dogs 20-50 lbs: 6-8 drops
Dogs over 50 lbs: 10 drops
Each bottle of Cushing's Relief contains 2 FL OZ (59mL), Minimum 2000 drops
Q. Can this be administered alongside meds such as vetoryl?

A. The product will not interfere with any meds currently being administered. It is up to the customer if they would like to administer our product alongside other meds. Always speak to a Vet on how to take your pet off prescription meds safely.
Q. How long does the bottle last?
A. A bottle will last at least one month. A bottle may last 2 months for smaller dogs.
Q. Are there any side effects?
A. There are no serious side effects associated with this product what so ever. Always cross-check the ingredients with any pre-existing allergy your pet may have.
Q. How long before I see results?
A. You should see results within 3 weeks. If you are not satisfied we recommend taking advantage of our guarantee.
people are currently looking at this product
Estimated delivery time 3-5 days
Adrenal Support - Cushing's Treatment for Dogs
has a rating of
4.8
stars based on
223
reviews.
*These statements have not been evaluated by Food and Drug Administration. This product is not intended to diagnose, treat, cure or prevent any disease. The information on this Web site or in emails is designed for educational purposes only. It is not intended to be a substitute for informed medical advice or care. Prana Pets bases these statements on the historically established and widely acknowledged traditional uses of natural ingredients.
Slideshow
Other top rated products
4.8 star rating
4.8
222 Reviews
Thank you for posting a review!
We value your input. Share your review so everyone else can enjoy it too.
Thank you for posting a review!
Your review was sent successfully and is now waiting for our staff to publish it.
Thank you for posting a question!
Please click on the link in the confirmation email we just sent you to submit your question.

Your question will appear on the site once someone answers it.
It seems to be working
Review by Holly B. on 2 Aug 2020
review stating It seems to be working
It seems to be working miracles. We received our diagnoses 5 months ago even though symptoms were going on much longer and she seems to be Actually slightly improving. This is something I could afford compared to the medical cure. Thank you prana!
On Adrenal Support - Cushing's Treatment for Dogs
share
' Share Review by Holly B. on 2 Aug 2020
facebook
facebook Share Review by Holly B. on 2 Aug 2020
twitter
twitter Share Review by Holly B. on 2 Aug 2020
LinkedIn
linkedin Share Review by Holly B. on 2 Aug 2020
Was this review helpful?
1
0
Thank you for saving Benny!!
Review by Sharon on 30 Jul 2020
review stating Thank you for saving Benny!!
About 6 months ago my dog, Benny, was suffering so bad with Cushing's Disease. He had every symptom they can get and then some. He was suffering so much and I was going to have to say goodbye. I saw Prana pets ad online, and figured let's give it a try, he can't be any worse off. I ordered the Cushing's killer and within 2 weeks I started to see a change. Now, 6 months later, he is so much better. Because he has it so bad that it's not totally gone, but we have control of it rather than the other way around. As soon as his fur starts falling out, it starts to regrow. His excessive hunger is better, his unreal thirst is now manageable. His panting is better from the CBD, and his anxiety. The longer he is on the product the more of his old personality comes back. Thank you isn't enough to stress how grateful I am. Brad is amazing, one time Benny was starting to regress, and after talking to Brad increased the dosage and now he is doing amazing. Also, Benny has dermatitis allergies, and has lots of black skin disease all over. He's had that for years, it is almost GONE, and new fur is growing back. His face looks like a puppy now since the black skin is now gone from around his eyes. Not a Cushing's symptom, an extra bonus we got from the product. Poor guy had been suffering for so long, but not knowing any other way than the vet. My dog I am certain got the Cushing's from taking apoquel for allergies for years. Be careful. So, he is now only on Prana products, and is doing great. Many, many thanks. Sharon
On Adrenal Support - Cushing's Treatment for Dogs
Thank you so much for the great Adrenal Support product!
Review by Robert T. on 26 Jul 2020
review stating Thank you so much for the great Adrenal Support product!
We purchased your Adrenal Support product to help our 9 year old queensland heeler with his cushing's symptoms. After reading the information on the prescription medication the vet offered, there had to be a better answer. It has been 2 weeks. The dog has had relief for his constant need to urinate. He is more active and appears to just feel better. He his back to drinking a reasonable amount of water instead of literally emptying his dish every time he goes to get a drink. His constant panting has been greatly reduced. He is still hungry but does not counter surf anytime anyone is standing next to it. So it as helped with his constant hunger. The drops are easy to give to the dog. We just place his dose onto a tiny biscuit, it soaks in and the dog eats it right up.
We are totally amazed at how quickly this supplement has improved our dogs life.

Thank you for making my dog more comfortable!
On Adrenal Support - Cushing's Treatment for Dogs
P
Patricia A.
5 star rating
My dog Flash has bounced
Review by Patricia A. on 22 Jul 2020
review stating My dog Flash has bounced
My dog Flash has bounced back from his Cushing disease. It truly has saved his life. I am very grateful that I found Prana Pets' Adrenal Support!

Pat Avery
Houston, Texas
On Adrenal Support - Cushing's Treatment for Dogs
Q: We have concerns over the way the dosages were written, Are we allowed to give our dog up to 40 drops a day?

A: Hi there. Yes. Dosage is based on Weight and can be given 2 or 3 times a day. You can even give a 4th time. Dogs over 50lbs get 10 drops each dose. If the dog is closer to 100lbs you can give 15 drops each time. I hope that answers your questions.
Was this answer helpful?
0
0
The testimonials reflect the experiences of customers who used our products. However, individual results may vary. We do not claim, nor should the reader assume, that any individual experience recounted is typical or representative of what any other consumer might experience. Testimonials on this website are not intended, nor should they be construed, as claims that the products can be used to diagnose, treat, or cure, any disease. No testimonial has been clinically proven or evaluated by the FDA