The Dangers Of Not Treating Your Dog's Intestinal Parasites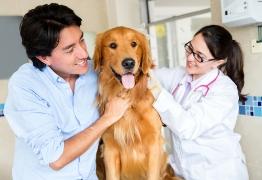 Parasites can be prevented and treated and a simple $35 stool sample at the Vet yearly is important for the safety of your two-legged and four-legged familyParasites are common and can cause disease in dogs.
    Intestinal parasites can also cause significant health problems. Intestinal parasites like roundworms, whipworms, hookworms, tapeworms, and protozoa, such as giardia live in the Gastrointestinal tract. Parasites are usually transmitted when an animal inadvertently ingests parasite eggs or spores in contaminated soil, water, feces or food. In the case of tapeworms, they can also be transmitted when a dog eats an infected flea. Puppies, on the other hand, usually get intestinal parasites from their mother.
The Dangers of Intestinal Parasites
Some of the dangers of intestinal parasites include malnutrition, weight loss, vomiting, diarrhea, and anemia. Besides making our pets sick, many of these parasites can affect people. According to kidshealth.org, "20% of dogs pass Toxocara eggs in their stool." Toxocara can cause damage to the eyes and untreated can lead to vision loss, especially in children.

Most intestinal parasites are not visible with the exception of, Tapeworms and Roundworms  Besides being hard to detect, many dogs infected with intestinal parasites are asymptomatic. Even symptomatic dogs may go undetected because their symptoms can be nonspecific.
The most common signs and symptoms of intestinal parasites are:
Intestinal parasites are treatable but most dogs exhibit no symptoms so the best way to protect your pets against parasites is to have their stool checked at least once a year.
    Treat Parasites Naturally with The,
"Parasite Free"

Formula
Aids the body in expelling intestinal worms and parasites
Effective against parasites in larval and adult stages
Relieves common symptoms of infestation such as gas, nausea, bloating, frequent diarrhea and sluggish digestion
Stimulates healthy digestion and the production of bile
Provides gentle and effective support in cleansing protocols
Ingredients :
Anise, Black Walnut, Buckthorn Bark, Cloves, Herb of Grace, Neem, Pumpkin Seed, Wormwood 
Directions

Use 2-3 times daily.  Drops may be administered directly into the mouth or mixed with food.  Continue for approximately 3 weeks. Repeat when necessary.
Cats and dogs under 20 lbs: 2-4 drops
Dogs 20-50 lbs: 5-7 drops
Dogs over 50 lbs: 8-10 drops
Note:
 Parasite Free Formula is not recommended for cats or dogs under 6 months of age or elderly animals with a weak constitution, unless under veterinary supervision.
Product size: 2 FL OZ (59mL), Minimum 2000 drops
Use Code WORM20 For 20% Off Your Order!
"I started noticing signs of worms in the stool of several of my cats and asked a friend what to do. She gave me a bottle of Parasite Free Formula and within 3 weeks all signs of the worms disappeared. I gave a course to the rest of my cats (and two dogs) to make sure they weren't infested either. I highly recommend this formula."