Prescription Pain Medications Versus Natural Painkillers for Dogs-This Will Suprise You!
Pain will eventually introduce its ugly head into every dog's life, especially seniors. Inflammation in dogs can be a serious problem.
Whether our dogs are suffering from pain related to arthritis, digestive issues or pancreatitis our canine companions are reliant on us to make important and safe decisions to help them deal with pain.
As pet parents, we never want to see our two-legged children suffering from pain.  Pain will alter our beloved dog's behavior just like it does when we are in pain and it will not be pretty. What's worse is many dogs suffer silently. An inherited trait from wild dogs or Wolves is for our domestic dogs to hide pain. Wild dogs or Wolves could not display pain or weakness or they would be prone to attack.
Indications that your dog is in pain include the following :
Moving slowly
Not eating
Getting up slowly
Not jumping
Getting aggressive if touched
Not wanting to be picked up
Hiding in closets
Lying still or in an abnormal or contorted position.
Some dogs will sit up to not put pressure on their stomach or internal organs.
And lastly, a lack of interest in things they love, like, treats, playing or going for a walk.
The Danger of not dealing with your dog's pain
According to
Dr
. Stanley Coren,
Ph.D.
,
  psychology professor and neuropsychological researcher specializing in dogs, pain that is not treated in dogs can be hazardous to a dogs health.         
"The research literature is quite clear in showing that pain, especially if it is experienced over a long duration of time, can actually be hazardous to a dog's health. The reason is that pain is a stressor, and in response to stress the body begins to release a set of stress-related hormones. These affect virtually every system in the body, altering the rate of metabolism, causing neurological responses, causing the heart, thymus glands, adrenal glands and the immune system to go into a high state of activity. If this situation continues long enough these organs may actually become dysfunctional. In addition, the tension that the state of pain related stress induces can decrease the animal's appetite, cause muscle fatigue and tissue breakdown, and also rob the dog of needed, healing, sleep. In the end, the dog is exhausted as well as distressed, and this reduces the body's ability to heal."
There are many ways veterinarians treat pain depending on where it emanates from, including, laser therapy, acupuncture, physical therapy, massage, IV Fluids and of course
PRESCRIPTION PAIN MEDICATIONS
.
Prescription pain medications are typically very effective in dealing with pain but the benefits can be short-lived and of course, there are the
side effects
Below are popular pain medications for dogs and they're accompanying side-effects
Adequan Canine for Chronic Inflammation in Dogs
Adequan® Canine (polysulfated glycosaminoglycan)
is the only FDA-approved injectable, disease-modifying osteoarthritis drug (DMOAD) that inhibits cartilage loss in the dog's joint, and may help to, restore joint lubrication, relieve inflammation and renew the building blocks of healthy cartilage. According to the manufacturer few Side Effects are seen following Intramuscular injection.
 It is recommended to stop giving Adequan and seek emergency veterinary medical attention if an allergic reaction (facial swelling, hives, scratching, sudden onset of diarrhea, vomiting, shock, seizures, pale gums, cold limbs, or coma) should occur. Bleeding from the nose, blood in the feces or dark and tarry stools may indicate a decreased ability of blood to clot. 
Meloxicam for Chronic Inflammation in Dogs
 Some of the most common side effects of Meloxicam for dogs include:
Black or bloody stools, diarrhea, blood that is visible in your dog's vomit, stomach ulcers, abdominal pain and tenderness to the touch, Increased thirst as well as urination. Possible swelling or weight gain due to fluid retention.  Stools that look like tar, fatigue, muscle weakness, jaundice (your dog's eyes, gums, and skin appear yellow), nausea, appetite loss, weight loss, Itchiness, headaches, dizziness, dry mouth, skin irritation such as redness, scratching, and scabs. Even a loss of kidney function is possible.
You dog can also experience behavior changes such as:
Depression, aggression, uncoordinated movements and/or a decrease in energy and activity.
Additionally, some dogs can experience an allergic reaction to the drug and go into anaphylactic shock!
Some of the signs of anaphylactic shock include:
Hives, swelling of the lips, tongue, or face, difficulty breathing, muscle cramps or seizures.
Rimadyl for Chronic Inflammation in Dogs
Side Effects May include :
Vomiting, diarrhea, black tarry, or bloody stool, constipation, fatigue, weakness, gastrointestinal ulcers, sores in the mouth, fluid retention and weight gain, muscle cramps, seizures, abdominal pain, behavioral changes, Increased or decreased thirst, urinary abnormalities, (color, smell, frequency, etc.) jaundice, liver or kidney problems.
Lethargy or sedation, wobbliness, diarrhea, vomiting, depression, bulging eyes or loss of coordination.
Deracoxib for Chronic Inflammation In Dogs
The most common side effects of Deracoxib involve digestive issues such as vomiting and decrease appetite. Other possible side effects of Deracoxib include:
Change in bowel movements (diarrhea, or black, tarry or bloody stools),change in behavior (decreased or increased activity level, incoordination, seizure, or aggression), jaundice (yellowing of gums, skin or whites of eyes),Increase water consumption or urination changes (frequency, color, or smell), seizure, skin irritation (redness, scabs, or scratching), stomach pain, stomach ulcers or unexpected weight loss.
If given the choice would you prefer to give your dog a natural pain-killer that is effective and has no side- effects over prescription pain drugs with side-effects?
Two proven natural painkillers for dogs include;
   CBD Oil for Chronic Inflammation in Dogs
CBD Oil for Pets
has been extensively studied in humans for providing pain relief and in 2018 a Cornell University Study has documented CBD Oil being effective for dog pain.
Prana Pets CBD Oil is the #1 High Potency CBD Oil for pets

.
It is 100% Natural, extracted and bottled in Colorado (Finest Hemp and extraction processes), guaranteed non-psychoactive so it does not produce the high found in THC and it has no reported side-effects. Special Offer.
175 MG in a 30 ML Bottle Only $29.95 Just go to Prana Pets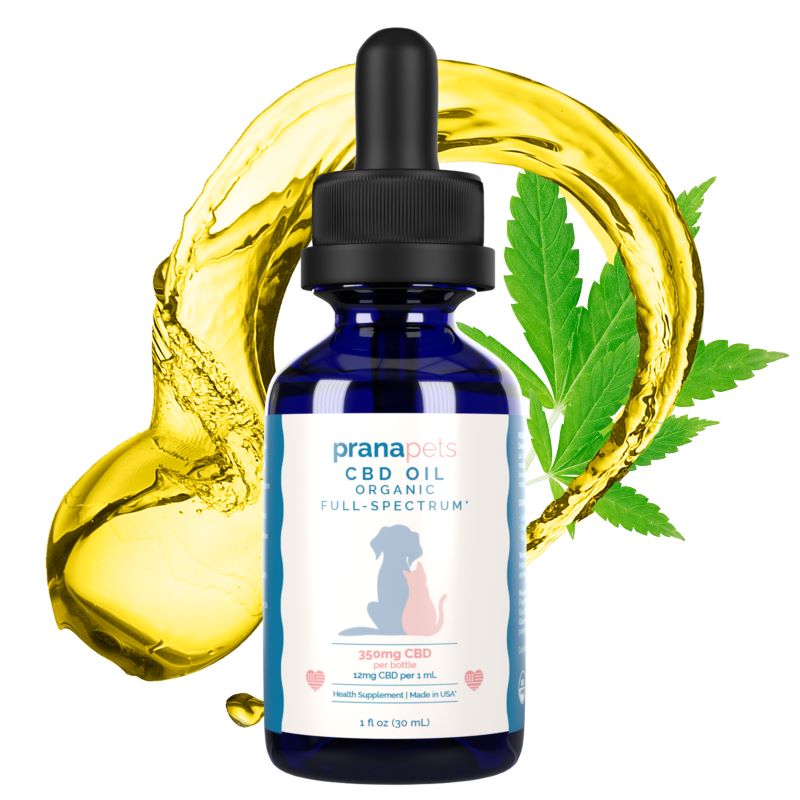 CBD Oil for Dogs and Cats from Prana Pets is a natural and certified organic CBD supplement for pets of all ages. Our CBD Oil is a full spectrum oil including terpenes made from 100% Colorado grown hemp plants. See more top natural ways to supplement. 
Benefits of organic CBD Oil:
Promotes healthy digestion and appetite

May help inflammation & discomfort throughout the body

May work to combat nausea & other digestive problems

May lessen nervousness & stress

Promotes healthy skin & fur growth
Hear What Our Customers Have to Say!
Rusty would go nuts when I would leave the house for work! I wanted to send you guys a picture of my couch after he ate half of it! After using the CBD product I was finally able to stop his destruction.  Hopefully as he gets older this behavior will fade, but for now, the CBD Oil seems to do the trick. I even give it to him before car rides which he absolutely hates. Thank You Prana Pets!
"My 14 year old dog Hailey got bone cancer and we were trying to do everything we could for her Thought she was going to die late August, but we started to give her your liver support and cancer support meds and it help her a lot. She started eating and going to the bathroom again and acting like her self besides the limping.You guys gave us 3 more good months but we did lose her late November. Thanks again!"
-Matt B ,Cleveland
Check Out These Related Articles!
Connect
No statements on this website have been evaluated by the U.S. Food and Drug Administration. These products are not intended to diagnose, treat, cure, or prevent any disease.

No statements on this website have been evaluated by the U.S. Food and Drug Administration. These products are not intended to diagnose, treat, cure, or prevent any disease.